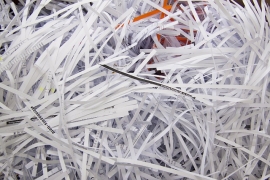 On-site file shredding is quickly becoming a popular practice among modern businesses and for all the right reasons.
For starters, companies don't have to worry about the protection of sensitive financial documents, such as inventory lists, budget plans, legal documents or account information, to name a few. In addition, by working with a reputable on-site shredding service, your company will account for the legal considerations that oblige you to protect customer/consumer information. Moreover, you will no longer have to be concerned that sensitive data associated with your business or clients falls into the hands of the wrong people.
Let's explore the benefits your company can enjoy thanks to on-site shredding services.
1. It's quicker and more convenient
More often than not, on-site document shredding services will send a truck incorporating a professional mobile shredder directly to your headquarters. The shredding devices are usually capable of destroying thousands of pounds of documents per hour, making the process a lot faster than if you were to tear up each individual file via a personal shredder. In short, a qualified expert handles all your sensitive data's protection needs.
2. You'll have peace of mind
Working with an on-site shredding service means you don't have to entrust your company's sensitive data and hence, you will limit the chain of custody. Not only will most services install locked bins in your office, but you can witness the actual shredding without wasting too much time. The firsthand verification is a critical safety feature that can't be left in the hands of drivers or unknown personnel at another site. To put it simply, because the entire process doesn't take longer than a few minutes, you can watch how the company documents are destroyed and put your mind at ease.
3. You can include last-minute add-ons
Because the mobile shredder is located right outside the company's facility, you can simply get there and run a pile of last-minute documents via the device. In fact, you can even schedule a specific day for destroying sensitive documents and considerably reduce the chances of information leaks.
4. The shredded files are unrecoverable
The biggest advantage of hiring an on-site shredding company is that they're capable of destroying the documents beyond recovery. To be more precise, they tear up files into little pieces and then mix them with other shredded paper, thus making it impossible to reconstruct. The shredded pieces are typically recycled, so rest assured that the process will not affect your company's social responsibility practices. On a side note, if necessary the shredding services will provide you with the required documentation to prove your legal compliance.
5. Your will save time and energy
In an attempt to save some cash, some business owners believe that the best solution is to get a few member of the staff perform this task. However, they don't actually realize that in-house file shredding requires valuable employee time and diverts their focus from core business activities. In addition, leaving this major decision up to your employees could lead to breaches of confidentiality, while you will not have any guarantee that the sensitive documents are unrecoverable.
Do you need confidential documents and other important papers to be destroyed? You can count on Shred All Secure Document Destruction for that!
If you would like a free trial of our on-site document shredding service at your office, call 519-418-2448 or apply online today.