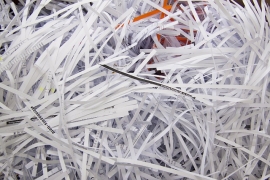 There are many times when running a business when you will need to get rid of lots of important information. Of course, when you have the information stored in digital format, all you need to do is sanitize the disk that has the information.
There are still many people around the world, however, who depend on various forms of physical data in the form of documents and files. Getting rid of these requires a bit more tact especially when you consider the increased risk of having the data leaked if you are not careful.
The Benefits Of Shredding
One of the most common ways of getting rid of physical data is by shredding it. This is a process that makes it completely impossible for anyone to possibly put the data back together even if they have the shredded pieces of paper. This then makes it one of the most effective ways of destroying sensitive information.
How To Make It More Convenient
If you have lots of physical data you need to get rid of, there might not be a need to buy shredders to do this unless you are constantly getting rid of it. In most cases, you are better of identifying a company that can provide shredding services, and then using them for this. This has numerous benefits including the fact that you won't need to spend so much money on new appliances. The costs of running the company will also be reduced, since you will never have to worry about maintenance.
Some Of The Often-Forgotten Details
When you need to use a third party to get rid of physical data, you should keep in mind a few issues that have the potential to result in data loss. For instance, if you have to transport the data to the shredding firm, there is a risk of having some of the data lost while in transit.
To counter this, you should explore the benefits of using an onsite shredding company. Such a company will bring the shredding equipment to your premises, and then do the shredding as you watch. This way, you can be sure that all the information will be gotten rid of without a doubt. The fact that they come to you instead of you having to go to them also makes them more convenient. This is especially so if you work with a company that has a reputation for showing up on time, in which case you may not need to waste much time waiting for them.
In summary, how you formulate policies on data destruction in your company is something that you should thoroughly think through since it has far reaching consequences. If you are interested in shredding, the above is an overview of some of the important things you should look out for, if only for the sake of your peace of mind. The one thing you can be sure of is that as long as you follow them, you are unlikely to have any regrets after destroying documents in this way.
Do you need confidential documents and other important papers to be destroyed? You can count on Shred All Secure Document Destruction for that!
If you would like a free trial of our on-site document shredding service at your office, call 519-418-2448 or apply online today.