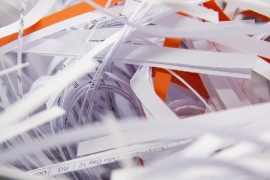 Shredding documents is a great way to protect sensitive financial information, while also accounting for any legal considerations that oblige a business to protect consumer information.
Using on-site file shredding companies has become popular practise among businesses. But why?
Save Time, Money, & Energy!
Our shredding service will send a truck with a professional mobile shredder directly to your office.These shredders are typically capable of destroying thousands of pounds of documents per hour, making the process much faster than if you were to to feed each individual document into your personal shredder. Because our shredder sits right outside your office, it's easy to add in last-minute files for shredding!
Some business owners believe that the best way to save cash is to get a few staff members to shred sensitive documents. However, in-house file shredding takes up valuable employee time and diverts their focus away from other important tasks.
Gain Peace Of Mind
The biggest advantage of hiring a shredding company is that they are capable of ensuring that the documents are completely unrecoverable. Specifically, they tear your files into tiny pieces, and then mix them with other shredded paper, therefore making it impossible to reconstruct. The shredded pieces are then recycled, so you can rest assured that your company's social responsibility practices will not be impacted. If necessary, you will be provided with the necessary documentation to prove your legal compliance. 
Working with an on-site shredding service means you control the chain of custody. Not only do we install locked bins in your office, but you are welcome to witness the shredding itself. This firsthand verification is a critical safety feature that shouldn't be left in the hands of unknown personnel at another site. Because the process doesn't take more than a few minutes, you can watch your documents being destroyed, and put your mind at ease. 
Do you need confidential documents and other important papers to be destroyed? You can count on Shred All Secure Document Destruction for that!
If you would like a free trial of our on-site document shredding service at your office, call 519-418-2448 or Apply Online Today.