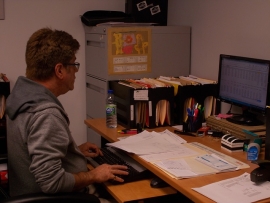 According to a recent survey conducted by YouGov )the international internet-based market research firm), a whopping 77% of consumers said they would be far more likely to purchase from a company that has not suffered a data-breach than a company who has in the past!
Surely it's not a huge shock to anyone that consumers have lost all faith in businesses and the government to keep their personal information safe. The number of reported data breaches occurring in both the public and the private sectors have skyrocketed in recent years.
Now, here's the real eye-opener ... That same survey showed that many of the respondents knowingly take risks with potentially sensitive information when they are on the job!
Of the 2,061 people who responded to this survey and who sometimes work away from their office, over half admitted that they has risked committing a security breach by being careless with sensitive information. They said they either completely ignore their company's security policies, or they're simply not aware that there was any!
Whatever the reason for this non-compliance, it's important that all workplaces have an information security program, and to ensure that their employees are following (and are aware of!) this policy. 
Here are some tips:
Create a Workplace Culture that Values and Respects Confidentiality & Privacy. 
Develop an Information Security Strategy that Complies with all Privacy Laws and Legislations. 
Keep Employees who are Involved in Information Security Through On-Going Education & Communication.
Partner with an Information Security Company that Disposes of Private Information in a Safe & Secure Manner.
Do you need confidential documents and other important papers to be destroyed? You can count on Shred All Secure Document Destruction for that!
If you would like a free trial of our on-site document shredding service at your office, call 519-418-2448 or Apply Online Today.