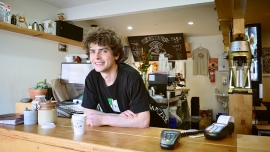 Born in the 1980s and 90s, Millennials are the largest generation in our workforce today. The first wave of millennials is currently in their thirties, and by 2020 it is projected that 46% of all workers will be millennials. 
Being technologically advanced is what makes this generation so influential. Millennials have grown up with online shopping, smartphones, and social media. Simply put, their lives have been shaped by technology. The issue is that, although technology is the driving force behind almost everything they do on a daily basis, there appears to be an utter lack of regard for data security. 
Bring Your Own Device policies in the workplace tend to ban certain apps, but almost 50% of millennials bring personal apps into the workplace because corporate-approved apps simply cannot do what they need them to do, or cannot be used across of a variety of different devices. Since every business will be hiring this generation, if they haven't already, it's important to understand what a workplace can do to keep sensitive information as secure as possible. 
Follow Their Lead
Since this generation was so immersed in technology, experts recommend harnessing the knowledge they already have and using it in a way that benefits the workpalce. For example, knowing which apps they download most often to use for their job can help to identify the needs of the workplace. Work closely with millennials to select apps to help everyone do their jobs. 
 
Rethink Your Approved Apps
Research shows that YouTube and Skype are often outlawed by IT departments in large corporations, but YouTube has proven to be an informative social marketing tool, and Skype is essential when it comes to communications. 
 
Share The Wealth
Try reverse-mentoring in your workplace. Use your millennials to teach their tech-savvy practices and knowledge to the older generations. 
 
Utilize New Technologies
Consider something like Multi-Persona Virtualization, which will create separate user personas at the operating system level on a single smartphone. With this, your IT department can manage the context in which applications are used on the professional persona without affecting what employees do on their personal personas.
 
Data Security Training
It's important that all employees receive on-going training and updates about the policies and procedures within your organization. 
 
Integrate Information Security
Information security should be an integral part of the workplace. For example, partner with a document shredding company for secure information destruction. This company should provide locked consoles for the workplace and secure shredding. 
Do you need confidential documents and other important papers to be destroyed? You can count on Shred All Secure Document Destruction for that!
If you would like a free trial of our on-site document shredding service at your office, call 519-418-2448 or Apply Online Today.