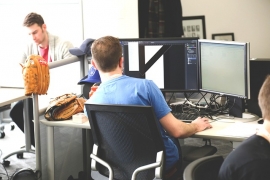 Smaller businesses tend to have fewer security mechanisms in place, making them popular targets for cyber criminals. Of course, this is no the only reason to create a secure culture in your workplace from the beginning. Another important one being the cost of a data breach, which is not ideal for any company, but especially not for you, as you are still establishing your customer base and your reputation. 
So, what information security practices are best for a start-up?
Understand Your Obligations 
Research the Privacy Laws and Legislation that are relevant to your business. Data Security is your legal responsibility. Check out our most recent blog for more information!
 
Create a Written Information Security Policy
Compose a detailed document about identifying and protecting sensitive data both in and outside of the workplace. Ensure that there are specific guidelines for your mobile workforce.
 
Introduce Document Management Procedures 
Only collect and retain the personal information that is essential to your organization, and physically control access to these records. Arrange for data backup. Keep an inventory of sensitive information with clearly marked destruction dates on both electronic and paper files. 
 
IT Protection 
Use the latest technological safeguards for prevention, detection, and encryption. 
 
Educate your workforce.
Provide regular information security training for all employees. 
 
Emphasize Physical Safeguards.
Implement a policy requiring all office guests to sign in. Ensure there are locked containers to hold any documents that need to be destroyed. Implement a Clean Desk Policy to remind employees to protect information at all times. 
 
Risk Assessments 
Create a Security Risk Assessment Schedule to identify security gaps!
 
Supply Chain 
Before entering into any business relationship, always evaluate potential partners to ensure that they are as committed to information security as you are. 
 
Secure Document Destruction 
Partner with a document shredding company like Shred-All to dispose of documents that are no longer needed. 
Do you need confidential documents and other important papers to be destroyed? You can count on Shred All Secure Document Destruction for that!
If you would like a free trial of our on-site document shredding service at your office, call 519-418-2448 or Apply Online Today.