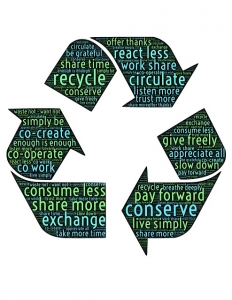 The main concern for a lot of companies that wish to recycle their paper waste is what happens to the paper once it's been taken away. Is it really recycled? 
It is wise to recycle your paper via shredding company to ensure that any and all confidential data has been safely destroyed before the paper is shipped to the recycling company. 
Once the paper waste is delivered to the recycling facility, it is sorted into three main 'grades'
Newspaper/Magazines
Mixed Paper/Cardboard
Brown Cardboard
The facility will bale Brown Cardboard before it send it for reprocessing. The other two grades go to the reprocessors in their loose form.
Next, the paper is made into a pulp by adding water. The experts will then screen the pulp to remove all contaminants such as staples, paper clips, ink, and glue. When they are satisfied that the pulp is as clean as possible, they begin to turn it into a new paper product. 
This entire process will take as little as 7 days, and then there will be a new product on the market!
Do you need confidential documents and other important papers to be destroyed? You can count on Shred All Secure Document Destruction for that!
If you would like a free trial of our on-site document shredding service at your office, call 519-418-2448 or Apply Online today.