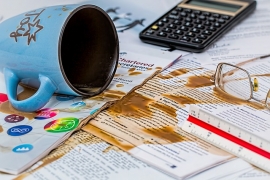 Human error in the workplace is far more common than you think. In fact, an alarming 32% of security breaches are caused by a negligent employee! 
Classic examples of employee negligence include; Accidentally sending emails to the wrong person, inadequate disposal of sensitive paperwork, and misplacing mobile devices or laptops. 
The good new? There are some very effective ways to reduce human error when it comes to the employees in your organization. 
Create a Culture of Security
Appoint a Chief Security Officer, and provide them with a clear, concise document outlining all policies and procedures for employees would both in and outside of the office. 
 
Get Employees More Involved 
Form a 'Data Security Committee'. Include representatives from all areas of your company; IT, Human Resources, Compliance, Legal, Marketing & Communications. Come up with ideas for implementing these policies and procedures in a way that everyone within your company will understand, and will be able to follow.
 
Information Security Training
Provide Information Security Training on a regular basis so your employees can learn the best practices for protecting confidential information.
 
Emphasize Responsibilities
Take every opportunity to remind your employees that it is their legal responsibility to protect all confidential information, and company records. This includes all Entrance & Exit Interviews. Every employee should acknowledge that they are aware of the security policies and procedures.
 
IT Support
Provide your employees with the latest and best IT support, such as any data loss prevention or equipment softwares, malware protection, passwords, etc.
 
Security Audits
Schedule regular information security audits to help you identify any problem areas, and to help you find solutions. Throw in the odd surprise audit to keep employees on their toes! Catch them once, and they'll most likely try harder next time. This is also a good way to catch any employee who is knowingly committing fraud against your company!
 
Management Protocols
Implement information management protocols that include how long to keep certain types of documents and outlines the proper procedures for securely disposing of them. When information is no longer needed, have all documents (paper and electronic) destroyed by your shredding company!
 
Shred-All
Implementing a Shred-All Policy will simplify information management, and take the responsibility of deciding if a document is confidential, or important enough to be shredded, all of the employees. All documents are deposited into locked consoles and then securely shredded on site.
 
Partner With Like-Minded Companies
When looking for a business partner of any kind, whether it be independent contractors or huge corporation, always look into their data security protocols and ensure that they are as committed to data protection as you are. 
Do you need confidential documents and other important papers to be destroyed? You can count on Shred All Secure Document Destruction for that!
If you would like a free trial of our on-site document shredding service at your office, call 519-418-2448 or Apply Online today.